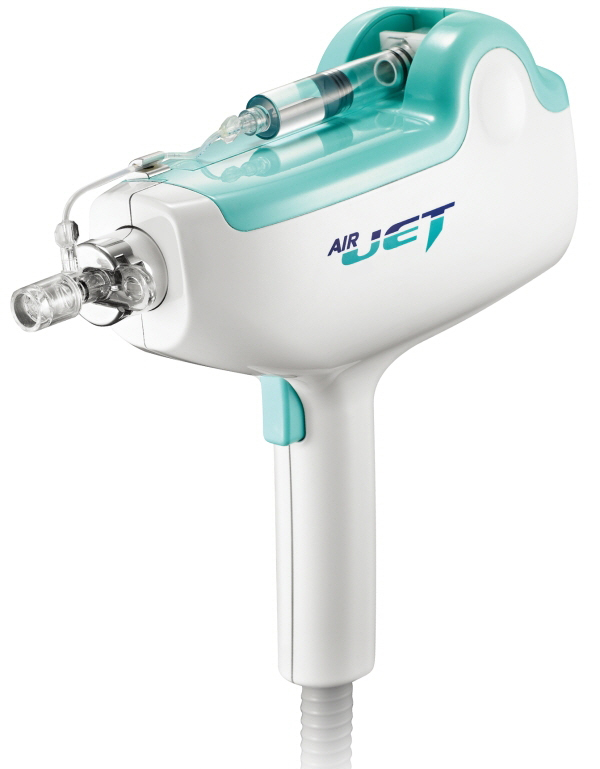 Indication :
Gives double times more powerful synergistic facial lifting effect along with ultherapy lifting.
What is Airjet?
Based on kinetic energy and specially designed nozzle.
It generates high pressure energy and spray non-ionized solution ( more than 500kDa) Into the skin layer by called "JET BULLET EFFECT" for three-dimensional subcision.
JB technology
JB( Jet bullet effect) is proper tech to deliver solution into dermis at high velocity by kinetic energy and diffused uniformly to the desired target
Easy & safe solution deliver
Air jet is non-invasive solution delivery system by compressed air at high velocity
It is most advanced delivery system without needled and minimizes damage in the epidermis
Air spray tech
The pneumatic spray tech is stable enough and can create the same result regardless of number of shots. Once the high pressure compressed air is injected with solution, "Wound healing " process will be stared and a desired effect can be seen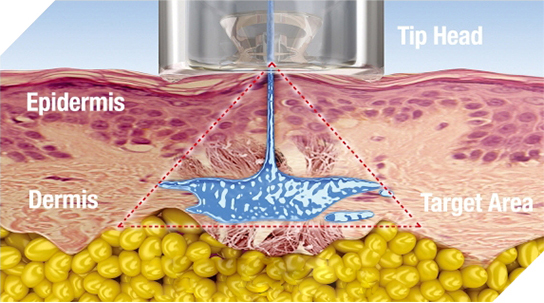 How does it work?
High pneumatic injection
Solution delivery to the target
Natural healing process
Skin regeneration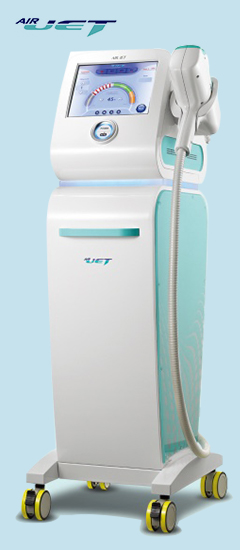 AIRJET
Features
Maximization of solution delivery efficiency
· Drug molecules can be delivered efficiently by Jet Bullet tech.
Easy and Convenient change
· Designed to change the SYRINGE KIT easily and conveniently.
Low noise design
· Minimized motor noise will make a user and patient comfortable.
Ergonomic design
· Touch control, trigger and ergonomic designed hand piece will make a user to
access the system easily
Safety
· Minimized damage in the epidermis and side effect by adopting
Non invasive & Non needle
Who is suitable for Airjet?
ME CLINIC SEOUL
Convenient
Designed to change the Syringe kit easily and conveniently
Simple
Performed by experienced doctor
Noise
Minimized motor noise will make
a user and patient comfortable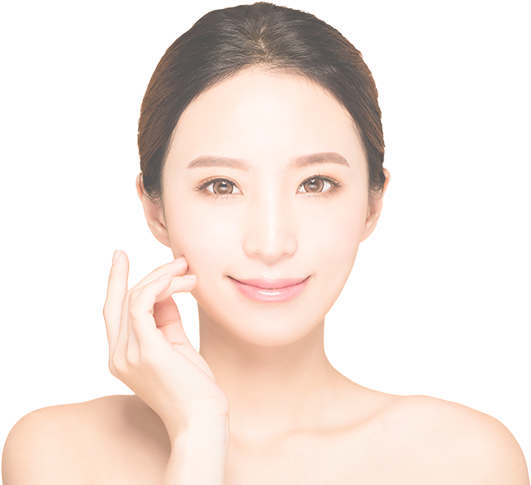 Procedure Cost
ME CLINIC SEOUL
* Interval of the treatment is once a month
※ TAX (VAT) is included in mentioned prices.
Recovery
ME CLINIC SEOUL
How long you have to stay in Korea : not required, Going back to routine or work : right after a procedure
Follow-ups : after or within 7 days, Full recovery time : 1 month
| The Day | Right after procedure | After 7 days |
| --- | --- | --- |
| Procedure | Going back to routine | Follow up or Not required |
ME CLINIC painless procedure
ME CLINIC SEOUL